Meeting Anwar will be another step backwards for Harapan - Dr M's sarcastic jab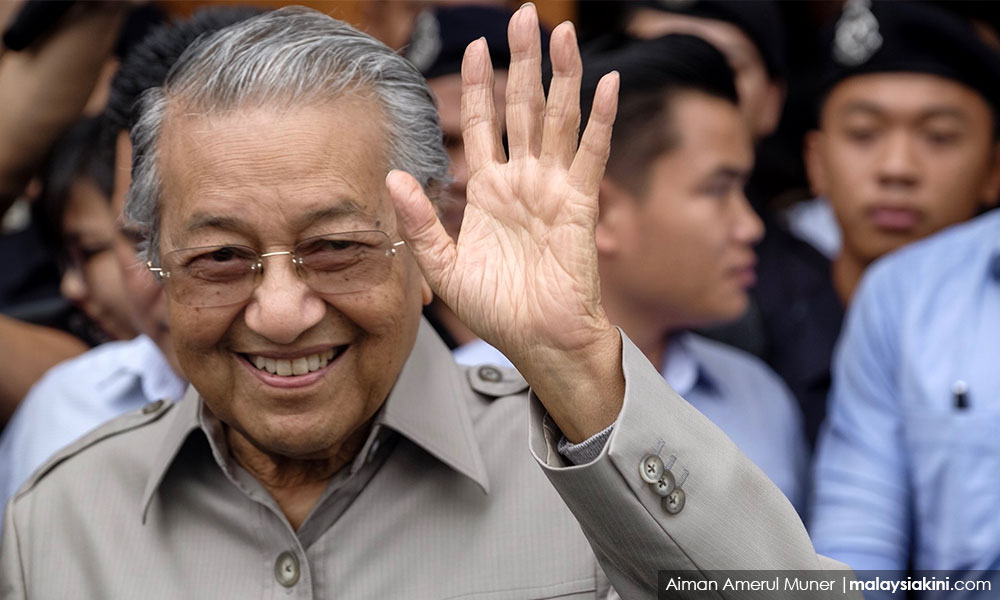 Meeting Anwar will be another step backwards for Harapan - Dr M's sarcastic jab
Published: Modified:
Dr Mahathir Mohamad, with his trademark sarcasm, said a meeting between Anwar Ibrahim and him would be counterproductive for Pakatan Harapan and therefore his political rivals have nothing to fear.
His remark was in reference to Institute of Strategic and International Studies senior fellow Sholto Byrnes description of Harapan's decision to name Mahathir as its prime minister candidate as a step backwards.
"Everyone knows my appointment (as the PM candidate) would ensure Harapan's defea t (in the election). So what is there to fear about Anwar and I meeting.
"Surely, it would be another step backward for Harapan," he added in a blog posting this afternoon.
Mahathir was commenting on the prisons authorities barring him from visiting Anwar at the Hospital Rehabilitasi Cheras in Kuala Lumpur yesterday.
The Harapan chairperson explained that he wanted to meet his former nemesis to thank him in person for putting the nation above personal feelings.
Mahathir noted PKR's reservations about him being the coalition's prime minister-designate since he was prime minister when Anwar was imprisoned for the first time.
"... I believe (PKR's) agreement is due to its founder Anwar overcoming his emotions and placing the nation above personal feelings," he added.
Mahathir said Anwar, like others in Harapan, had set aside their past differences in order to remove Prime Minister Najib Abdul Razak from office.
" It was not easy, especially for Anwar. But it is clear Anwar puts the country above self.
"This is the reason I wanted to thank Anwar in person. I only needed a minute to meet, nothing more. There was no intention of talking about politics," he added.
Mahathir also reiterated his claim that the Home Ministry had ordered the prisons authorities to bar him from meeting Anwar but Deputy Prime Minister Ahmad Zahid Hamidi, who oversees the home affairs portfolio, denied this.
Zaid said such visits required a prior application and the approval was subject to the discretion of the prisons authorities.
Mahathir also pinned the blame on Najib.
"I am sad and disappointed. What has happened to our nation? No prime minister before this prevented people from visiting patients or prisoners. When I was prime minister, I never stopped anyone from visiting prisoners, including Anwar," he said.
Anwar, who is serving a five-year prison sentence for a s odomy conviction, is recovering from a surgery to his right shoulder.
The former opposition leader has claimed that the charge against him, similar to the first sodomy accusation during Mahathir's tenure, was fabricated by his political rivals.
Last November, both Najib and Zahid visited Anwar at Hospital Kuala Lumpur.
Source:
Google News