Yoursay: Sorry Team Azmin, Harapan has chosen its PM candidate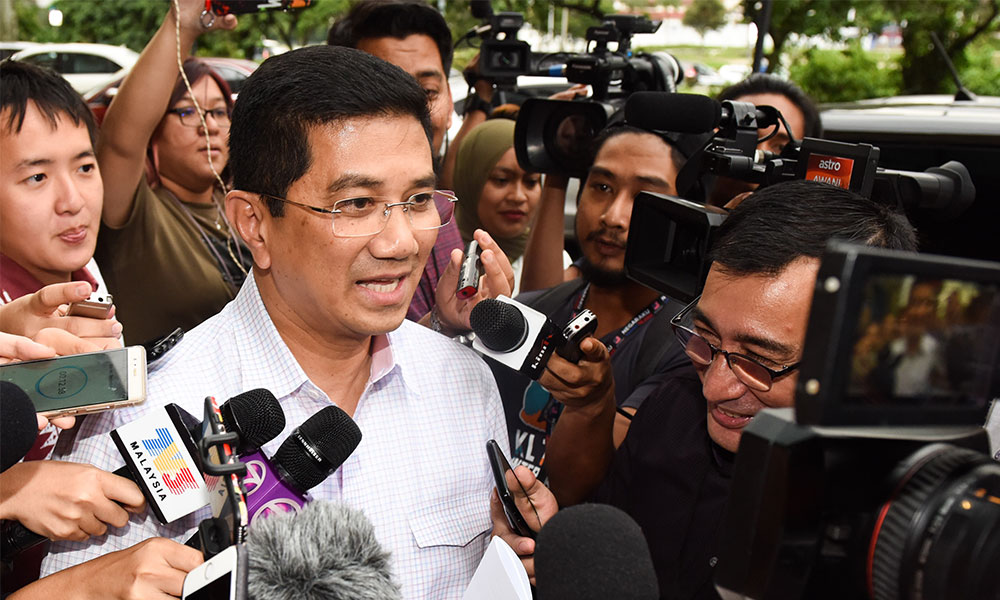 Yoursay: Sorry Team Azmin, Harapan has chosen its PM candidate
Published: Modified:
YOURSAY | 'This is outright rebellion by PKR's Azmin faction.'
S'gor PKR 'missing' from state Harapan's joint statement
Wg 321: I think Amanah, Bersatu and DAP are fed up with the attitude of Selangor PKR headed by Mohamed Azmin Ali.
They can just go ahead with their joint statement supporting Dr Mahathir Mohamad as prime ministerial candidate without Selangor PKR.
It is high time the national leadership of PKR disciplined Azmin, but nobody dares to except part y de facto leader Anwar Ibrahim. But Anwar is in jail.
In the meantime, it appears that Selangor PKR deputy chief Zuraida Kamaruddin is actively promoting Azmin to be the prime minister candidate to replace Mahathir.
One crucial question we must ask: Is Azmin as capable and influential as Mahathir to win over the hearts and minds of the rural Malay in the Umno heartlands to vote for Pakatan Harapan?
If Azmin cannot do that, then Zuraida is sabotaging the efforts of Harapan to form the new government in order to institute reforms and collect back the billions that have been stolen.
Anonymous 242641505703475: Of course, Selangor PKR wishes Azmin to be Harapan's PM-designate. There is nothing wrong with promoting your man.
But since the decision was already made that Mahathir is to be the PM-designate, stick to it. Wait for another opportune time when your man could be prime minister.
Patience is a necessary ingredie nt in a leader.
The same principle applied to the post of Selangor menteri besar. It was decided that the post should be given to PKR. Once that was decided, then all parties had to accept the person picked by PKR.
Anonymous 2440441480473705: After becoming Selangor menteri besar, Azmin's head has become bigger and he is now gunning for the prime minister position.
How can Harapan win Putrajaya with such a power-hungry politician around?
Prudent: This is serious. Effectively, this is an outright rebellion by PKR's Azmin faction in rejecting the central leadership's decision on the choice of Mahathir as PM-designate.
PKR's disciplinary committee must take action fast to whip the Azmin faction into line. Otherwise, the combination of the renegade Azmin faction, PAS and Umno could prove lethal for Harapan in GE14.
Under the circumstances, the Azmin faction should not be allowed into the figh t for victory in GE14. It is usually fatal for any army to have an enemy within its ranks.
Ronald: Indeed, it's unacceptable that a state chapter is going against the directive of the national party. No one individual is above the party.
Azmin must be hauled up by the central party leadership for insubordination.
Mano: So many of us common citizens did not like Mahathir for all the damage he has done, and now he is even talking of the toll rates that were put in place to benefit him and his cronies.
But we are trying to maximise the opportunity we do have for this election, while hoping that the other parties in Harapan can keep him in check.
Simple Truth: What about the other lawmakers who are in Selangor PKR, like Rafizi Ramli, Wong Chen, Elizabeth Wong, and R Sivarasa? Are you not going to take a stand on this issue?
Anonymous 1802761448130592: We have to be mindful th at Selangor PKR still has many highly respected leaders like Rafizi, Wong and Sivarasa and others who deserve our support.
Let us not cut off our noses to spite our faces, or else we'll end up sore losers.
Varuna: PKR should get its priorities right otherwise the opposition will be severely disadvantaged in the forthcoming elections. PKR could thereafter lose it relevance in national politics.
As a political party that has increasingly gained public favour in recent times, PKR should act diligently in present circumstances where there are realistic options for greater alliances and eventual success at the polls.
Simple Truth: Azmin, if you have the courage, you should resign from PKR and join Umno together with your deputy, Zuraida.
If you should stand on a PKR ticket, we would rather vote Umno than you because better the devil we know. You are acting like a spoilt brat, you are certainly not prime minister mater ial so get over it.
Hope: Azmin forgets that he is in Selangor. If he is not careful, he and his gang may lose the support of the mostly urban voters in the state pretty fast.
Or maybe he is thinking of "making the jump" soon?
Kawak: Well, it's not surprising PKR is at it again. They created the MB crisis in Selangor and now they're doing this.
Anonymous_3dce: Can we voters know who are those in Team Azmin? If they are going to hold PKR to ransom, let us Selangor voters teach them a lesson by voting them out in GE14.
Goldee: Tackle one thing at a time and let's focus on winning Putrajaya. If Harapan can't win Putrajaya we can forget about reforms.
At the moment, whoever is selected as prime minister is not important. Mahathir knows he can't be the prime minister forever as he is no longer young.
Let's focus on the main issue, that is to cap ture Putrajaya.
Gandhi: It looks like the Umno blood still runs strong in some.
Anonymous 1802761448130592: If I may add an analogy, in Selangor, three parties new to one another - Amanah, DAP and Bersatu - are working together using whatever limited resources they have to build and launch a ship into a treacherous ocean, while a disgruntled Selangor PKR is seemingly working hard to hack holes at the bottom of the ship.
The above is a selection of comments posted by Malaysiakini subscribers. Only paying subscribers can post comments. Over the past one year, Malaysiakinians have posted over 100,000 comments. Join the Malaysiakini community and help set the news agenda. Subscribe now.
These comments are compiled to reflect the views of Malaysiakini subscribers on matters of public interest. Malaysiakini does not intend to represent these views as fact.
Source:
Google News